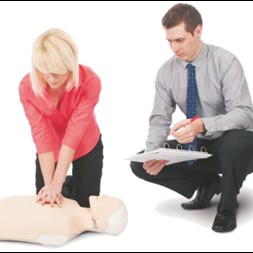 Cardio-Secours is the essential program for CPR and Automated External Defibrillators (AEDs). Focusing on the basics and meeting various needs, Cardio-Secours allows you to develop the skills and confidence you need to respond to cardiac arrest. – (according to the requirements of the Heart and Stroke Foundation)
It is possible to add actors and makeup to make the scenes more real!
Training content
How high-quality CPR improves survival
The concepts of the chain of survival
Recognizing situations where CPR is needed
Adult CPR and the use of an AED
Choking victim rescue (adults)
Type of training : COMPETENCY CARD
Duration : From 1:30 P.M. to 4:45 P.M.
Venue : In-person
Admissibilité :
INDIVIDUALS WHO REQUIRE A COMPLETION CARD FOR WORK, VOLUNTEER WORK, OR TO FULFILL A REQUIREMENT.
PEOPLE WHO WANT TO HAVE THE ABILITY AND DESIRE TO RESPOND TO A CARDIAC OR CHOKING EMERGENCY.
CAREGIVERS, PARENTS, AND FAMILIES WITH CHILDREN OR INFANTS WHO WANT TO KNOW WHAT TO DO IN THE EVENT OF A CARDIAC ARREST, CHOKINg, OR OTHER EMERGENCY.